The SCFD uses Harris XG-25 Radios.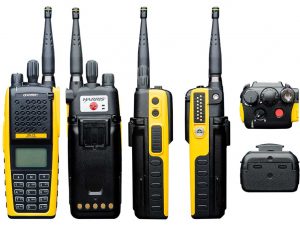 Each of these radios have unique identifiers, allowing everyone to know who is transmitting. This is identifiable to both dispatch as well as anyone monitoring that particular channel.
Each position on each unit has a radio issued to it. Each radio is also paired with a shoulder mic, two batteries, two belt removable belt clips, a long range antenna, a black leather radio strap, a leather radio cup, and a bluetooth receiver built into SCBA masks.
To turn these radios on, simply turn the volume knob. The volume goes from 0-40. You can also cut the volume in half through the shoulder mic by pressing in the button below the PTT switch. You can also change the channels on the radio by turning the know next to it. The knob only goes from 1-16, and it will not go past 1 or 16. The radio will always start in bank 1, channel 1 (SCFD Main), regardless of knob positioning. So if your knob is turned to channel 5 when you turn the radio on and you turn the knob one to the right, you will go from channel 1 to channel 6 immediately. You will NOT be on channel 5 when the radio turns on. The orange button is the emergency button. This will active an emergency panel at dispatch as well as sending out a tone on the channel. It also will open your mic for fifteen seconds. The other button on the side of the radio is the backlight (bottom circle) and the long rectangular button is the PTT. The toggle switch at the top of the radio allows you to operate from the antenna in your radio (option A), or to use a larger repeater (option B ). Radios should always be at option A unless operating in remote areas with aparatus mounted repeaters or in tall metal buildings.
These radios operate on a three bank system. In order to access the other banks, press the "M" key in the center of the top keypad row and the top side button within 1 second. This will unlock the radio, allowing you to change banks, scan, or change settings. To change banks, press the up or down keys on either side of the "M" key. To scan, press the "SCN" button at the bottom right. These banks are listed below.
Bank 1: Main bank
SCFD Main

SCFD Batt X PVT (Different for each Battalion)

Ops 1

Ops 2

Ops 3

Ops 4

Ops 5

Ops 6

Ops 7

Ops 8

Ops 9

Ops 10

SD Dispatch

SD TAC

EMS Main

SCFD Main
Bank 2: EMS
SCFD Main

EMS Main

SCH Notification

St. Agatha's Notification

Crescent Falls Notification

Ops 1

Ops 2

Ops 3

Crescent Falls EMS

SCH Secutity

CF Security

St. Agatha's Security

MCI Ops

MCI Notification

EMS Aviation

SCFD Main
Bank 3: Major Incidents/Federal Channels
9-1-1 (Emergency)

ICS/Ops CMD 1

ICS/Ops CMD 2

Forestry

USCG

State PD Dispatch

State PD TAC

Airport PD

Port PD

Hazmat

Public Works

PD Aviation

Neighboring County Fire Dispatch

Neighboring County Fire TAC

SC Wide 1

SC Wide 2
​The Main bank is for most radio communications. This includes the SCFD dispatch channel, a private channel, the operations channels, SD's dispatch and TAC channels, and the EMS main channel.
The EMS bank is mainly used for hospital notification. It also includes EMS Main and Ops 1-3, allowing EMS crews to mainly operate in this bank.
The third bank is the interoperability and federal channels. These channels allow communication between agencies, but local, state, and federal.
Channel Descriptions
SCFD Main: Both fire and EMS dispatch.
Private: The private channel is to be used to communicate between other radios in the battalion for training or other simple, non incident related items. This channel is monitored and recorded by dispatch. Each battalion will have its own channel.
Ops: Operations channels are assigned when a call is dispatched. Responding units will call responding on the dispatch channel and then immediately go back to the operations channel that was assigned. The lower number channels will be assigned first, meaning that Ops 1 is the most commonly assigned channel.
​SD Dispatch and TAC:

Pretty Self explanatory

EMS Main: designed for simple EMS incidents, mainly BLS and minor ALS incidents. This channel will serve as the operations channel for single EMS unit responses. This is also the channel to contact Medical control.
Hospital Notification channels: these are used by EMS crews to alert that they are have a patient and that they are transporting. to the hospital.
MCI Ops: Channel used for communicating between EMS crews on Mass Casualty Events
MCI Notification: This is used for crews to alert other hospitals that they are transporting a patient. All area hospitals will monitor this channel when requested by medical control or the incident commander of a MCI
EMS Aviation: This channel is used to communicate between the ground and medevac crews
9-1-1: This is used for emergency incidents, such as first responders in danger. This is the channel where emergency button activations are directed. This channel is always monitored by dispatch. In the case of an emergency, such as trapped firefighter, the IC will change a radio and the RIT team will also operate on this channel. All other firefighters will operate on the originally assigned ops channel.
ICS/OPS CMD: These channels are use only for large incidents, such as large wild fires, incidents with responders from five or more agencies, or anything involving federal responders.
Hazmat: These are used for large scale hazmat incidents such as spills and other things
PD Aviation: This will allow ground crews to communicate with PD air units
SC Wide: This allows for units to communicate with all PD, EMS, and other crews in the county, including city units.